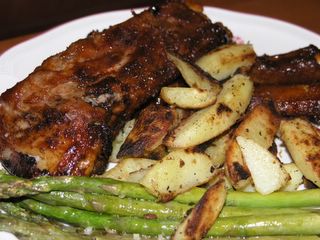 I'm not so good with ribs. Indeed, I have never cooked them before. Per has been begging me to try it for a long time, so I finally gave in. They came out ok I guess, but I really would like some more ideas for next time. This time, I used a simple barbecue sauce that comes from a very secret family recipe that my American friends mom passed on to me. I'm not going to post it, but I'm sure it's very similar to lots of other things - it's ketchup-based with brown sugar, worcestershire sauce, a bit of mustard and water, nothing terribly exciting there. But it's really tasty. Anyway, so I marinated the ribs in this, and baked them in the oven for a long time at a low temperature. Per loved them, but I was not so thrilled.
What are YOUR favorite ways to cook ribs? Please do share - I have two more large slabs of ribs in the freezer!
Oh - I've been tagged for two memes! Exciting! I'll post some answers soon, promise!
Little Habanero sure enjoyed the ribs though!