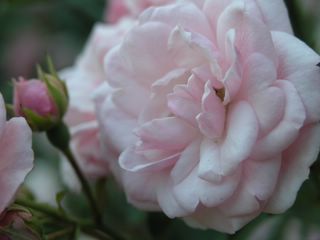 Tonight is Midsummer's Eve, which is one of the most celebrated holidays in Sweden. (It ranks right up there with christmas.) So what is really celebrated? Well, the summer solstice, and the light. As such a large part of the year is dark in especially Northern Sweden, we take every advantage of the lighter part of the year. Midsummer's is the night to stay up all night (and it's actually sunlight 24 hours in some parts of the country!), eating, drinking and being with family and friends.
You can read more about it
here
. I, like very many other Stockholmers will go out into the archipelago. (Everyone seems to want to be near water on Midsummer.) Per and I will join my parents on their boat. Midsummer is all about food and drink (especially drink, for very very many), but the traditional food is sill (pickled herring) and new potatoes, with a garnish of sour cream and chives. The potatoes are fine (excellent!) but I really can't stomach sill. Most people also barbecue, and so will we. And I'm bringing some of the
radishes and cheese
I talked about! And some snacks. And a lot of
strawberries
- it wouldn't be midsummer without strawberries, that's for sure.
So, happy midsummer's eve to you all! I recommend one of the oldest traditions for those single girls out there - tonight is the night that you go out, pick seven kinds of flowers, and sleep with them under your pillow. Ignore the bugs that inevitably will inhabit the bouquet. You will dream about the man you're going to marry. Yes,
of course
it's true.