A surprise from Tallinn!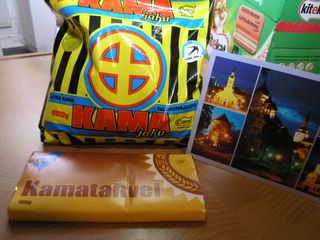 I had the best surprise the other day! As some of you may or may not know, my father's family is originally from Estonia. I've grown up with some Estonian customs and food, but I really don't know that much about the culture. I was therefor absolutely delighted to find
Nami Nami
, Pille's blog. See, Pille is Estonian, although she now lives in Edinburgh. I love reading about her cooking, and especially her Estonian cooking. She kept mentioning
Kama
, so I had to ask if she could hook me up with some. No problems, was her sweet reply, and the other day I got a note from the post office to pick up a package. I had no idea what it was, but when I saw the sticker with "Eesti Post" I got an idea.
Pille had asked her wonderful parents to send me Kama - so I got a very large bag of Kama, and two pieces of "Kamatahvel" - Kama-flavored chocolate! And a gorgeous postcard from Tallinn, too. Lovely! I showed this to my dad, and he was delighted to see something that he remembered so well from his childhood. I'm not sure what to make with it just yet, but I'm leaning towards either an appetizer or dessert to serve at our Estonian christmas family gathering, which we have every year on Dec. 26.
Many, many thanks to Pille and her parents!